Now that Instagram is available on Android devices you may be wondering how people are uploading multiple photos.  One way is to use our iOS app PicFrame (over 100,000 photos are tagged with #PicFrame on the Instagram network), well now it's available on Android devices and just like its iPhone counterpart you can use it to share directly to Instagram.
First, install PicFrame from Google Play.  Once it is installed open it up and select one of the 32 frames available that suits the amount of photos you want to share.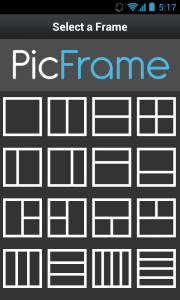 Load it up with your photos by tapping the frame areas and inserting them.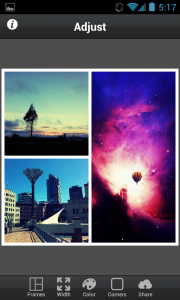 Once you have zoomed and aligned your photos tap the Share icon.  You can leave it on the medium resolution as it is perfect for Instagram.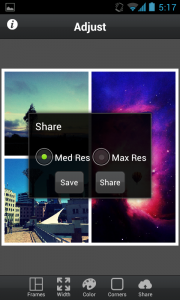 Tap the Share button and you should be presented with a list of applications/services you can use to share your PicFrame with.  If you have installed Instagram then it will show up in the list.
Tapping Instagram will load the application and allow you to crop, then share the PicFrame image.  Don't forget to tag it with #PicFrame in the caption!